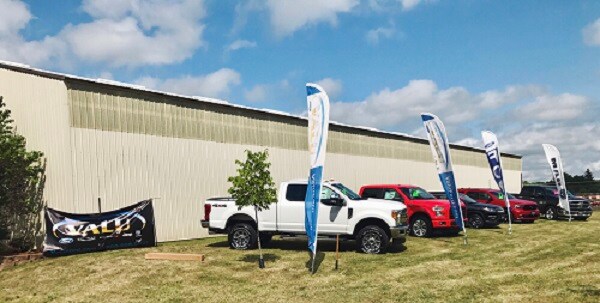 There's nothing like the start of the county fairs to signal the impending close of summer. As the last few weeks of heat begin to fade away we try to squeeze in those final barbecues and weekends at the lake, while trying to wrap our heads around the fact that another summer is almost here and gone. Us Minnesotans truly treasure our summers. There's just something about being surrounded by 10,000 lakes to freely jump in, fish in, ski in, etc. whenever we please, even if they do attract so many mosquitos that we should change our state insect.
Don't forget to pencil in a county fair or two to round-off the end of your summer festivities. Promise it won't disappoint if it's anything like the Stevens County Fair last weekend. The weather was ideal, the entertainment was exceptional, and the food was even better! From the grandstand events to the carnival rides and livestock/4-H exhibits there was something for everyone to take part in. Fairs are a perfect end to the most longed-after time of year. They bring people together, not just as friends and family though, but as a community.
Like a family reunion for an entire county only with more food and games. Just as we strengthen bonds and foster memories at family reunions the same is done at the fair. We're able to reunite with long-lost classmates, friends, or even family members that we've been detached from because of our hectic summer schedules. Establishing and maintaining these relationships is so important for the purpose of acting together in good times and in bad, in a way that interests everyone.
Organizations and businesses of Morris and the surrounding area gather to make this time of year possible. Valu Ford & Chrysler enjoys being able to take part in and support an event that is such a necessity for community wellness. We understand the value in building true "community" by getting to know our people and the long-lasting benefits it will create for not only us, but the community as a whole.
P.S. the Great Minnesota Get Together starts today and goes through Monday, September 4th, so if you can't hit up a county fair you have plenty of time to make it to the Minnesota State Fair!